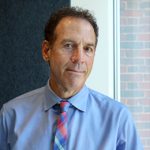 For the first 32 years of his career, Michael Appell, worked as a front-line fundraiser for several regional and national organizations. He began his career at Combined Jewish Philanthropies of Greater Boston, where he helped plan the organization's first "Super Sunday" phon-a-thon.
Michael served for more than 15 years as President of The Two/Ten Footwear Foundation, the world's largest industry sponsored charitable organization. He revamped the organization's major gifts efforts and helped to increase the endowment from $2 million to $28 million dollars. He also upgraded the annual campaign and developed a planned giving program.
Most recently, Michael spent a decade overseeing the development efforts at the Brandeis International Business School. He helped raise some $40 million for a variety of scholarship and academic programs, professorships, centers and institutes, and building projects.
In his consulting work, Michael recently completed a three-year assignment as capital campaign consultant for a $11.3 million campaign at Solomon Schechter Day School (Newton, MA). He is currently working with the Brandeis International Business School and Temple Aliyah (Needham, MA). Michael has also worked with the Reebok Foundation (Canton, MA), The Institute of Behavioral Health and the Heller School of Social Policy and Management where he currently teaches, both at Brandeis University.
As a lay leader, Michael served on the Board of Directors of the Asperger/Autism Network for five years and co-chaired the organization's first capital campaign. He currently chairs the Board of Overseers of the SpeakEasy Stage Company, where he solicits a wide range of prospects and donors, and is helping to plan the organization's first capital campaign.
Michael is a graduate of Brown University (Phi Beta Kappa) and earned his M.A. at Brandeis University.