Times of change, regardless of why they occur, are a rare opportunity to reassess a nonprofit's operational and organizational strengths and challenges, review progress towards strategic priorities, reengage the staff and board in support of the mission of the organization, and take key actions that are essential to achieving that mission.
Whether planned or unplanned, transitions in nonprofit leadership provide a narrow window during which the organization can reassess:
The VISION of the nonprofit Board
The SUSTAINABILITY of the nonprofit's business model
The CULTURE and COMMITMENT of the nonprofit's staff
The IMPACT for the intended beneficiaries of the services being offered by the nonprofit
An effective nonprofit interim leader can:
Uncover issues that the board may be unaware of, so as to provide a better platform to build on
Provide an objective assessment of where the organization stands in all facets of operations and governance
Establish short-term priorities that are needed to stabilize and strengthen the nonprofit
Empower and support the nonprofit's leadership team and staff to implement those priorities
They can often take actions that a permanent hire will not undertake due to their need to establish long-term, trusting relationships.
To maximize the opportunity that interim leadership can provide, interim leaders should derive no personal, long-term benefit from their actions and recommendations. They should be free to hear and process multiple perspectives on the organization's current situation and act quickly, in partnership with the board, in the best interest of the nonprofit and its mission. They should also provide input as to the characteristics needed in the nonprofit leader who will fill their role permanently.
Often, when a leadership transition is pending, the first response of a nonprofit Board is "how can we get through this transition quickly and cost effectively with minimum disruption?" and it is tempting to select an internal candidate.
Internal candidates often make sense when:
A strategic plan is in place and being followed
The operations of the organization are effective and turnover is low
The ED has paved the way for the next leader by distributing key responsibilities and building leadership capacity
The vision for the organization going forward is well established and the board is functioning smoothly.
Professional outside interim candidates make sense when any of the following exist:
The board has operational or sustainability concerns
The prior ED either had a long tenure and is associated with the organization's identity or was ineffective in some capacity
The future vision for the organization is not well establish
Internal staff may wish to be considered for the permanent role.
Considerations when selecting an interim leader?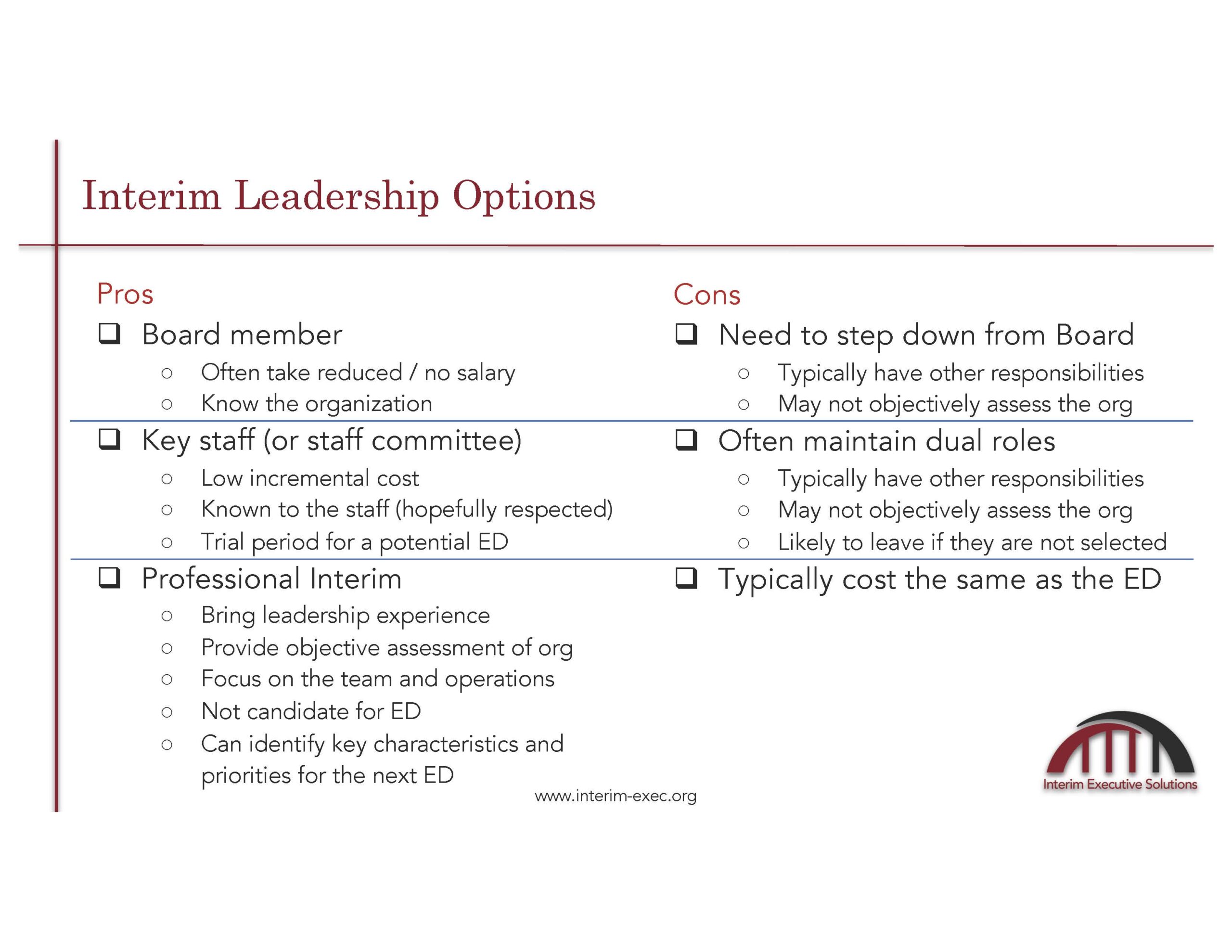 The Prepare-Pivot-Thrive model