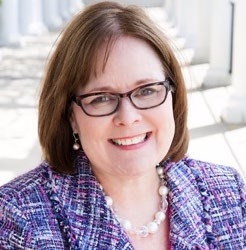 Maryellen Gleason is a fractional (part-time) CEO, Interim Executive Director, and board member. She has more than 20 years of experience as a nonprofit board chair, vice-chair, and committee member. Maryellen is a serial solutionist, driving transformations that enrich triple bottom line strategies for F500 and multimillion-dollar foundations. As an expert at the intersection of philanthropy and governance, she connects revenue growth and philanthropic outcomes to business goals and breathes new life into legacy organizations especially during transitions. 
Maryellen lives outside Los Angeles in the San Gabriel Valley and leads a philanthropy growth and campaign feasibility consulting firm called Align Philanthropy. As a volunteer, she chairs the Development Committee of the Harvard-Radcliffe Orchestra Foundation, leading the annual campaign to 2.5x growth year over year in 2021 and launching a $2M tour endowment campaign. 
As President and Executive Director (CEO) of the Milwaukee Symphony Orchestra, Maryellen transformed the debt-laden nonprofit into a thriving, cash-positive community jewel with an engaged donor base. She accomplished similar success as President and CEO of the Phoenix Symphony, a role in which she inherited complex labor relations challenges and $2M in debt. Maryellen developed multi-year business plans in both organizations and collaborated with the board, artists, and staff to achieve balanced budgets and reversing years of deficits. She also drove revenue growth through a re-invigorated audience and donor base, digital transformation, tech infrastructure modernization, and the establishment of new advisory boards. 
In addition to creating change through clear-eyed executive leadership, Maryellen excels in executing board governance strategies that propel enterprise impact. She is well-versed in forming and revising special purpose boards and committee structures to enable growth, increased fiscal strength, and operating performance. She also has extensive experience leveraging nonprofit operating, foundation, endowment, and pension trust boards as part of overall philanthropy fundraising and nonprofit capitalization strategies. 
Before joining the C-Suite, Maryellen was a top-performing sales executive leading a $300M enterprise sales branch for a Regional Bell Operating Company. Maryellen is entrusted as an advisor to rare disease CEOs and boards by the Chan Zuckerberg Initiative/Milken Institute Rare as One initiative and is a member of the Young Presidents Organization (YPO) and The Trusteeship of Southern California (International Women's Forum). 
LinkedIn: Maryellen Gleason