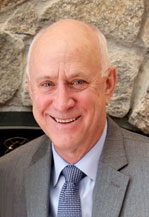 Ted Wilson has spent over 45 years working in various leadership capacities in child-serving, mid-sized not-for-profit organizations. Following a tour of duty as a naval officer, Ted began working in a church-sponsored residential treatment center in Maryland. That launched a career in child services where he has worked for religious entities, large fraternal organizations and community-based programs which provided support to a wide range of children and families. He has held management positions in child care agencies, independent schools, and residential children's programs in several states. His most recent engagement was a thirty year stint as CEO of a diverse consortium of private schools (Schools for Children, Inc.) based in Arlington, MA. Immediately prior to that, Ted was Executive Director of the Veterans of Foreign Wars' National Home for Children (Michigan) where he directly reported to a nationally-appointed board of trustees. He has served public schools as the elected president of a Michigan school board, served as a trustee for the Cambridge (MA) Montessori School, and, for many years, was a board member for a trade association supporting Massachusetts special education schools. From those diverse experiences, Ted brings a comprehensive depth and breadth of management experience to his new work as a professional consultant.
Ted has an undergraduate degree from Yale University and postgraduate degrees (M.Ed. and Ph.D) from the University of Maryland's College of Education. He makes his home in Winchester (MA) and is the father of two grown children and two grandchildren. Ted maintains an active life style, plays tennis and golf, enjoys reading and developing new skills and interests and remains engaged in social justice initiatives in the surrounding communities.
In creating his own consulting business (www.jacorapartners.com), Ted has committed himself to an ongoing life of service with a special focus in the not-for-profit arena. His affiliation with Interim Executive Solutions is allowing him an expanded platform to continue providing help in the areas of governance/board development, organizational design, development/ fundraising, leadership coaching and interim management support.
LinkedIn: Theodore Wilson