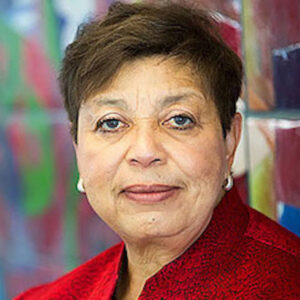 During the last 3 decades Myran has accumulated a breadth and depth of expertise and experience as an executive, educator and consultant in the non-profit sector. A key focus of her professional career has been working with organizations on strategic planning, program development and implementation, collective impact partnerships, public-private partnerships, board development and fundraising. She has held senior leadership positions with the Boston Public Schools, the Boston Symphony Orchestra and Longy School of Music at Bard College.
Myran has received local, national and international recognition for her work in arts and culture, arts education and arts policy reform.
Career Highlights include:
As Executive Director for the Arts for Boston Public Schools (BPS) she increased access to quality sequential arts education for all students from 65% in 2009 to 98% in 2019, increased the number of arts educators across 130 schools from 160 to 400 and deepened partnerships with more than seventy (70) arts and cultural institutions. The BPS arts expansion strategy is being used as a national model for urban school districts and in 2016 Myran was selected by Education Week as an "Education Leader to Learn From". Myran developed a collective impact model to ensure sustained systemic impact which provides an increased commitment of $30 million from the city and $18 million from Boston's philanthropic community.
As Chair of Experiential Education for Longy School of Music at Bard College Myran developed the strategic vision, courses and curriculum for the new department that became part of the required offerings for graduate students. This included partnerships, internships and teaching residencies with area schools, cultural and community organizations.
Myran's board participation, which includes the Museum of Fine Arts Boston, the Boston Landmarks Orchestra, the National Guild for Community Arts Education, the Community Music Center of Boston, EdVestors and the Boston Arts Academy, provides an opportunity for broader discussions on the importance of arts, culture and education both locally and nationally. Her board service has also included strategic planning, executive recruitment and capital campaigns. Over the last six years she has worked as a lead member of the Statewide Arts Coalition elevating the role of arts and arts education in Massachusetts and initiating the discussion on policy reform.
Myran also continues her career as a professional musician and has appeared as soloist with the Boston Pops Orchestra, the Boston Landmarks Orchestra and was awarded the "Outstanding Jazz Vocalist" award at the Notre Dame Jazz Festival. She is co-founder of the New England Spiritual Ensemble, which is dedicated to the preservation, performance and education of the Negro Spiritual.