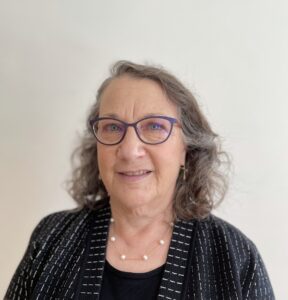 Ilene Sussman views strategic planning as a combination of solving a puzzle and creating an object out of clay.  To her there is nothing more rewarding than delving deep and developing an implementable blueprint for moving forward. Ilene believes that there is no insurmountable problem; research, thought, and creativity can solve anything. Holding a PhD in biochemistry and having worked in both academic and industrial settings helps explains Ilene's expertise in problem solving.
Ilene brought her unique background to the nonprofit world over 20 years ago. Asked by key funders to become the founding Executive Director of the Jewish Day School Advocacy Forum (DAF), Ilene demonstrated her strong ability to form trusting relationships. Under Ilene's leadership 14 diverse but highly competitive schools worked together to implement a market research study; they collaboratively developed a marketing campaign on the importance of benefits of a value-based education. DAF's success was demonstrated when it was integrated into the umbrella organization of Combined Jewish Philanthropies (CJP).
Since then, Ilene served as the Executive Director of the North American Thrombosis Forum, and most recently, as the Executive Director of the VHL Alliance. In both roles her work resulted in transitioning start-up organizations into highly regarded and established entities. At both organizations Ilene worked closely with the Board, created a strong and successful governance structure, developed and expanded programmatic efforts to serve a wide range of stakeholders, created strategic and effective collaborations, advocated on Capitol Hill, and grew assets 10-fold ($2 million).
Words used to describe Ilene include: resourceful, creative, passionate, collaborative, committed, enthusiastic, persistent, transparent, entrepreneurial, and visionary. Ilene brings the rare ability to "see the forest through the trees" while being able to visualize, understand, and construct a larger picture. She is a hands-on leader who nurtures others to accomplish and grow. Ilene is a strong believer that, when possible, it is better to be proactive rather than reactive. Ilene's ability to quickly pivot directions was demonstrated when she led the VHL Alliance to alter and grow programmatic efforts during the pandemic.
Given her scientific background, it is no surprise that Ilene's niche in the nonprofit world is within the medical/scientific world, particularly patient advocacy. At the same time, Ilene inherent commitment to making the world a better place motivates her to adapt her expertise to many other fields.
Ilene earned her Bachelors and Master's degrees in Biochemistry at the University of Pennsylvania and her Doctorate degree in Biochemistry at the Weizmann Institute of Science. Throughout her career, she has spoken at multiple medical and nonprofit related international conference.
Ilene's creative outlet is sewing, knitting, and weaving – anything with a needle, thread, or yarn.